Hungary in World Dental Parliament
Published by

rekabozso@gmail.com

on 2022, September 26 - 12:50

The Hungarian Dental Association is proud to announce that for the first time in history, a Hungarian professional has been elected member of a committee of the FDI World Dental Parliament.
At the one-week event of the FDI between 18-24 September 2022, Professor Katalin Nagy, president of the Hungarian Dental Association was nominated and elected member of the education committee of FDI.
Apart from the elections, Professor Nagy took part in all programme elements of the Wold Dental Parliament, and got to meet President Ihsane Ben Yahja, as well as several delegations from the biggest countries of the world. It was a highly beneficial time for meeting Indian colleagues, since the Hungarian Dental Association has its most recent cooperation with India.
Professor Nagy has been attending FDI events since 2007, and has been the Hungarian FDI National Liaison Officer since 2018. And in 2022 for the first time ever, Hungary, and Professor Katalin Nagy as our representative has been elected into the education committee of FDI.
The Education Committee monitors and advises Council on relevant and timely issues within dental education. The Committee also coordinates and implements the Scientific Programme of the FDI World Dental Congress, as well as the Continuing Education Programme. It consists of six FDI members, plus one liaison Councillor.
This small, isolated country of ours has all the reasons to be proud: among the 200 representatives of 130 countries worldwide, our candidate has received the greatest number of votes, coming first before Jordanian, Turkish, Korean, Saudi, British, American, German, Japanese or Chinese candidates.
We are proud, and wish Professor Nagy much success with her work as FDI Education Committee member between 2022-2025.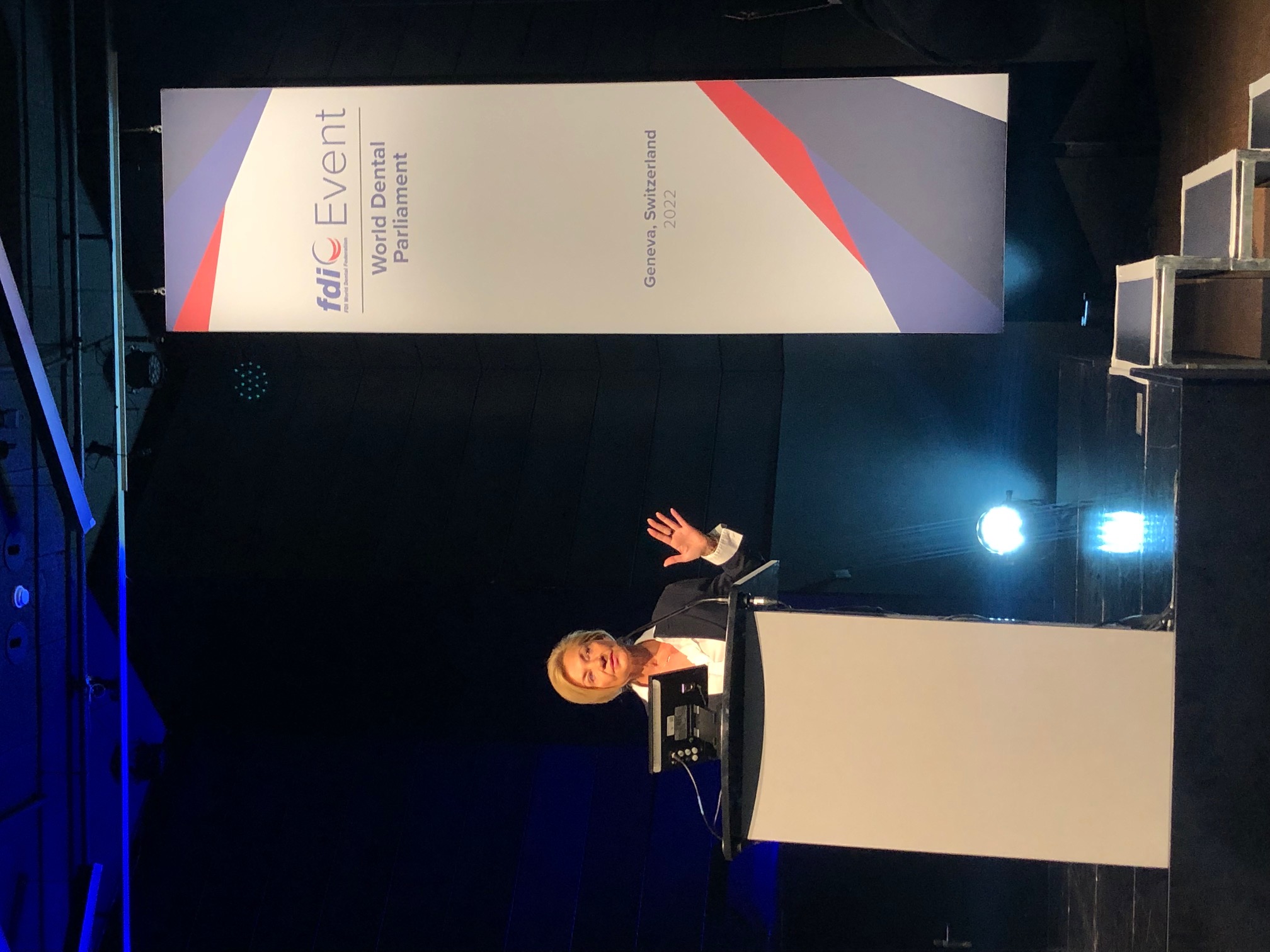 More about FDI:
FDI World Dental Federation (FDI) serves as the principal representative body for more than one million dentists worldwide and has a bold vison to lead the world to optimal oral health. FDI is one of the oldest organizations in the field of dentistry and its membership comprises some 200 national dental associations and specialist groups in over 130 countries.
FDI leads global advocacy efforts to increase oral health literacy and achieve political commitment and action on oral health in all countries. The organization pushes for oral diseases, which threaten  human health and well-being, to be recognized and addressed as serious global health concerns.
FDI fosters best practices in oral health science and education by sharing knowledge in preventive care, diagnosis, and treatment, and builds capacity through its own continuing education (CE) programmes, projects, awareness campaigns and policy statements. FDI also organizes congresses and publishes the International Dental Journal (IDJ) to advance the art, science and practice of dentistry. 
FDI is a non-governmental, not-for-profit organization headquartered in Geneva, Switzerland. It works with United Nations (UN) agencies such as the World Health Organization (WHO), with whom it is in official relations, as well as other non-governmental organizations, international partners, governments, and corporate partners to improve the oral health of all people.
English